Camelot Community Care is excited to announce the roll-out of this year's Annual Appeal that not only celebrates independence and freedom for our kids and families but will highlight the "why" for individuals who are dedicated to this organization day in and day out. 
This year, and moving forward, our Annual Appeal will be branded "Change A Lifetime" as it truly exemplifies the "why" for Camelot and all of the great programs we offer.  In the coming weeks, we will highlight some of the individuals that have been impacted by the mission of our organization as well as others who represent the everyday champions of Camelot. 
During this year's Appeal, you will have an opportunity to partner alongside these individuals to give them the means to become the best self they can be and arm them with the resources that they need to succeed and "Change A Lifetime" for not only themselves but their families and the communities they live in!  Be on the lookout as we showcase the "why's" of all things Camelot and how you too can partner with us to give them a "hand up" this holiday season.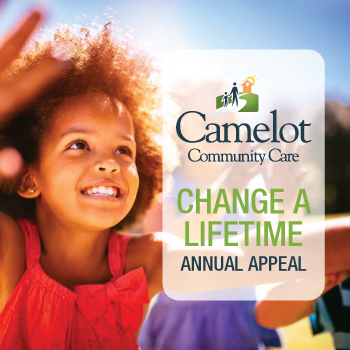 Please consider a donation to assist us in reaching this year's "Change A Lifetime" Annual Appeal goal of $5,000.  Your donation of $15, $35, $55 or $105 will truly change a lifetime for these individuals.  Simply click on the link below and become a champion of the kids and families we serve at Camelot this holiday season!
Thank you for your Support!